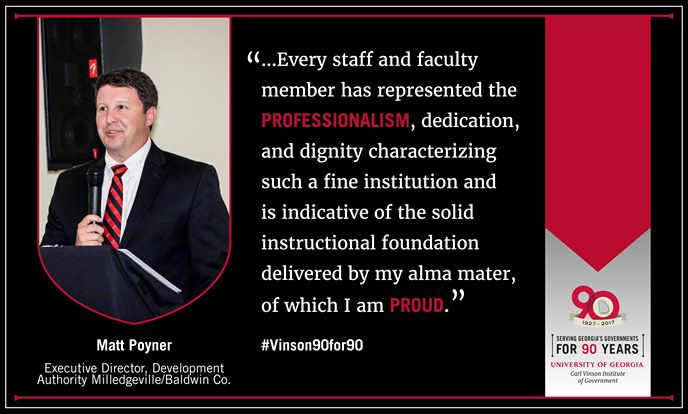 In celebration of their 90th Anniversary year serving state & local governments, the Carl Vinson Institute of Government is proudly sharing testimonials from their clients, stakeholders and friends to showcase projects on which they've worked, lives they have touched, and the impact they are making in Georgia and beyond.
Executive Director Matt Poyner was featured in August 2017 as an alumnus of the University of Georgia, economic developer, and community leader. Regarding the relationship built with the Carl Vinson Institute of Government, Poyner recounted the Institute being beneficial for professional development for himself and Development Authority board members, to be prepared to lead toward job growth and community investment. "Every staff and faculty member has represented professionalism, dedication, and dignity characterizing such a fine institution and is indicative of the solid foundation delivered by my alma matter, of which I am proud."
Read Matt Poyner's full testimonial.