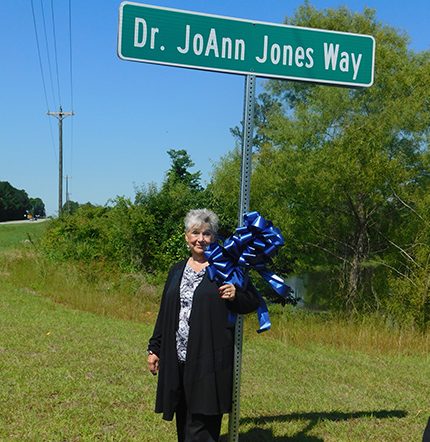 Today was a special day in the life of Dr. JoAnn Jones. Jones, retired professor and dean of the College of Business at Georgia College, honored for 19 years of service as chairwoman of The Development Authority of Milledgeville and Baldwin County and dedicated service to the community.
A new road into the Milledgeville-Baldwin County Industrial Park was dedicated Dr. JoAnn Jones Way. The sign was unveiled during a ceremony bringing together family members, long-time friends, and City and County officials. When asked by The Union-Recorder what the day meant to her, Jones wasted no time in replying, "Well, it's very touching. In some ways I feel like I'm at my wake and get to actually be here to hear people say such nice things about me. It's really overwhelming, because when they first set this up, I said, no I'm really not deserving of that."
During her time on the Development Authority of the City of Milledgeville & Baldwin County (DAMBC), Jones said she did everything she could do to promote Milledgeville and Baldwin County and to attract new industry to the area. "It means so much to me, because I was very committed for those 19 years," said Jones. "I am very honored that they did it, but you know it was a group of people that I worked with," she said with a big smile. "We had the most wonderful team on that development board. I've never seen people that worked so well together and had the best interest of our community. So much of what they do has to be done in secret and quietly. Unfortunately, people, for the most part don't understand what a development authority actually does."
After retiring from Georgia College, Jones said she also retired from other boards where she served as a member, but not the development authority. "I stuck with them for another five or six years," she added. "It was then time to go out, have fun, and not have to work any where anymore." Since retirement, Dr. Jones and her husband, Dr. Ken Jones, former dean of the Graduate School at Georgia College, traveled in an RV and visited every state in America.
Dr. Jones said one of her fondest memories was when the development authority built its first spec building in the industrial park. "We had two and we've sold both of them," she said. "It took a long time for people in small communities to understand why you would be building a big building like that for anybody. Spec buildings back then were like fishing lures. People came to look at them." Then, they would make a decision about whether the building suited their needs, she explained. Jones said she believes the local development authority is in good hands with Executive Director Matt Poyner at the helm. Poyner served as master of ceremony at the event honoring Jones on Friday.
Milledgeville City Alderman Steve Chambers spoke at the ceremony honoring Dr Jones. "I first had the pleasure of meeting JoAnn in 1976," Chambers said. "I went to Georgia College. I was in my freshman year, and I was still figuring out what I wanted to be." Under the mentor of his then professor, Dr. JoAnn Jones, Chambers said he he decided to pursue a career in business, learned some valuable life lessons, and realized his potential with her guidance. Through the years, Chambers said, he and Jones developed a close relationship in the community.
Also speaking at the ceremony was Baldwin County Manager Ralph McMullen. He said it gave him great honor and pleasure to be there to recognize Jones on such a special, well-deserved, occasion. "I'm representing the commissioners, but I can't speak…to what they have in their hearts," McMullen said. "I can say what's in my heart. It's always good to give somebody flowers while they can smell them and it's always good to speak kind words while they can still hear them." Jones, was overheard jokingly saying, "I'm glad to be at my wake," providing a laugh for everyone in attendance. "I have a few kind words that I'd like to say to my friend, JoAnn," McMullen said. "JoAnn is a bold leader. JoAnn is a mover and a shaker. JoAnn laid not just the foundation for this road, but JoAnn laid a foundation for economic development in Milledgeville and Baldwin County that gives us something to build upon now and in the future."
Johnny Grant, Georgia College Director of Community Engagement & Economic Development, had some words of admiration and appreciation for Dr. JoAnn Jones as well. "Georgia College has always tried to be a good neighbor in the Milledgeville community in support of community development with organizations like the Chamber of Commerce and the Development Authority, but nobody epitomizes that support any better than JoAnn Jones," Grant said. "JoAnn was dean of our College of Business for many, many years. She helped put the College of Business on the map. She raised it to an entirely new level with her activity and her energy. She's a formidable force and, as Ralph said, you don't want to go up against her," Grant said, noting he was proud to call her a friend.