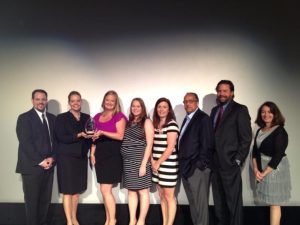 The City of Milledgeville Main Street received the 2013 Award of Excellence in Downtown Development Program of the Year.
Milledgeville Main Street and Downtown Development Authority Director Carlee Schulte also got her Georgia Downtown Development Professional Certification and received one of two scholarships for a trip to the 2014 National Main Street Conference in Detroit, Mich.
In addition to the Main Street achievements, Frank Pendergast, owner of The Baldwin Lofts, received the 2013 Award of Excellence Gold Medal presented by the Georgia Department of Community Affairs (DCA) and the Georgia Downtown Association.
Milledgeville Main Street bested 96 Georgia Main Street communities. "It's a huge deal, and we are very excited. It shows the importance of what we do, and the impact we are having not only locally but also statewide," Schulte said. The brand new small business BOOST grant program played a role in the program of the year designation. BOOST provides grant money to downtown small business owners and entrepreneurs.